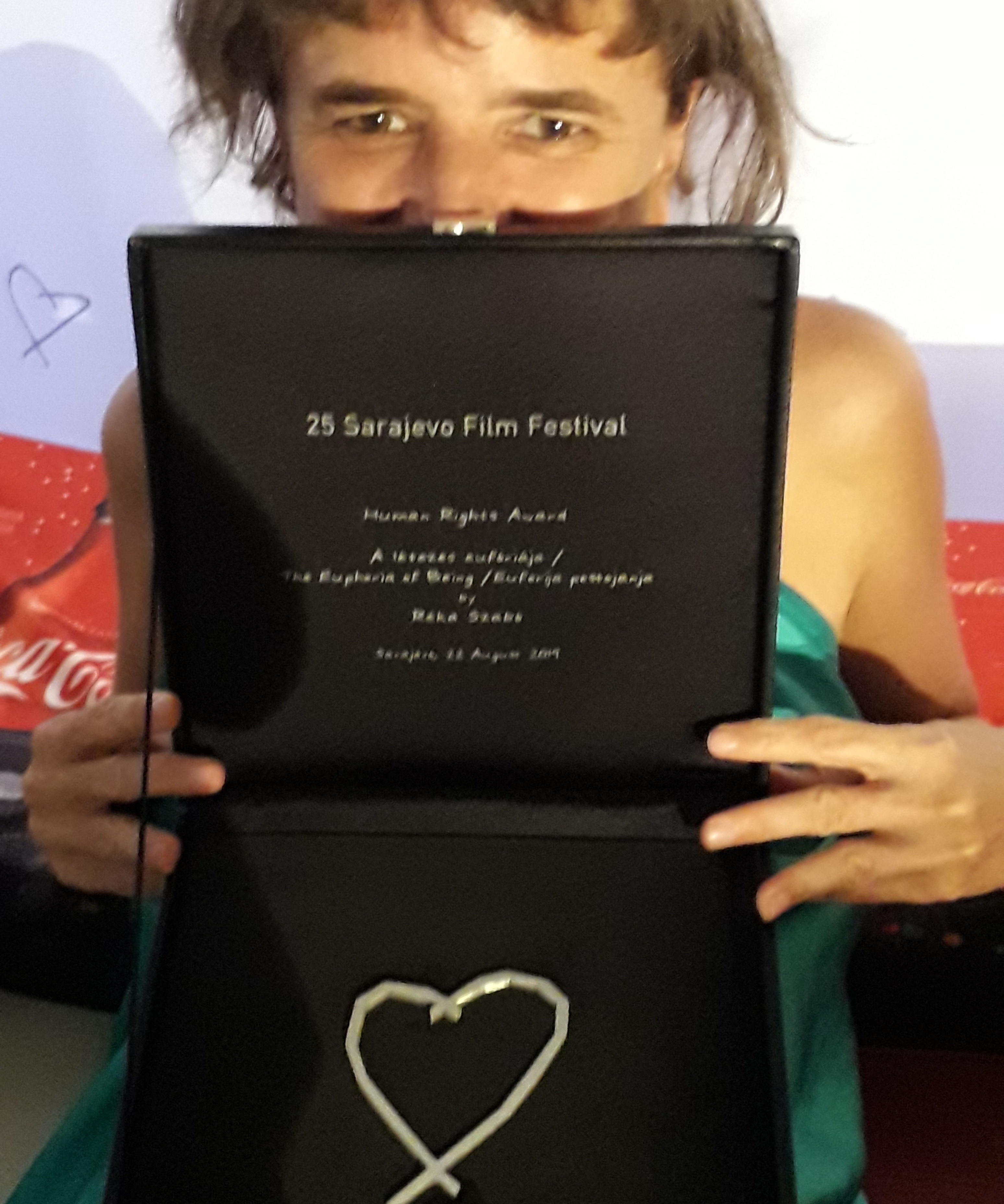 At the 25th edition of the Sarajevo Film Festival this year, Réka Szabó's 'The Euphoria of Being' was awarded with the Human Rights Award. The audience, much like at Locarno, received the work with great love. Réka's film knows something that rarely happens in this genre nowadays. The consistent love of life; contrasting play between the two actors, Éva Fahidi and Emese Cuhorka, which perfectly complement each other; and the rhythm of the euphoric moments makes this film particularly beautiful, filled with humanity.

The film will premiere on the 12th of September in Hungary. You can find out about pre-premiere screenings on our facebook page and website.
Cast: Éva Fahidi, Emese Cuhorka, Réka Szabó
Producer: Sára László, Marcell Gerő (Campfilm), Réka Szabó (The Symptoms)
Production: The Symptoms, Campfilm
Co-porducer: László Jancsó (4Cut Post Digital), Szabolcs Győrffy (4Cut Post Digital), Philippe Fontenoy (Pom'Zed)
Executive producer: Flóra Kovács (The Symptoms), Jonathan Halperyn (Hero Squared)
Line producer: Melinda Erdős
Editor: Sylvie Gadner, Péter Sass
Sound designer: Rudolf Várhegyi
Sound Studio: 4Cut Post Digital
Individual Supporters: Gábor Almási, Aron Fischer, Indiegogo donationst
Supported by Media Council, Hungary in the framework
of the Hungarian Media Patronage Programme, The March of the Living Foundation,
National Fund of the Republic of Austria for Victims of National Socialism, Hungarian Film Incentive, Mazsihisz
Éva Fahidi was 20 years old when she returned to Hungary from Auschwitz Birkenau. She was all alone, 49 members of her family were murdered, including her mother, her father and her little sister. 70 years later, aged 90, Éva is asked to participate in a dance-theatre performance about her life.
Réka, the director imagines a duet between Éva and the young, internationally acclaimed dancer, Emese. Réka wants to see these two women, young and old, interact on stage, to see how their bodies and their stories can intertwine.
Three women – three months – a story of crossing boundaries. Whilst key moments of Éva's life are distilled into theater scenes, a powerful relationship forms between the three women.
Throwing all caution to the wind, I asked a 90-year-old Holocaust survivor to create a dance theatre piece with me. I wanted everyone to see Éva Fahidi and to provide a space for her traumas in a dialogue with a young dancer, Emese. Where would the boundaries of understanding, of finding common ground lie? Would they be able to slip into each other's skin? Can we ever learn from the past? This rehearsal period was one of the most profound periods of my life. The film takes us on a journey through the history of the 20th century, through loss, the power of dance, the ageing body, love, a relationship across a 60 year age gap, and life's hidden strengths.