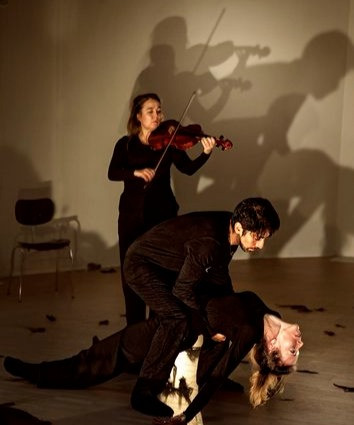 The Bird Experience is a Creative Europe project based on NextDoor Projects Sorgfugl from 2020. In 2023-2024 we continue the journey of the giant black bird figure moving its poetic body into everyday life, engaging in local communities and embodying stories of grief.
This time five sibling birds are created, taking off to each their destination in Europe with a desire to facilitate and gently fold their giant wings around local citizens and their narratives of grief.

The bird experience is carried out in collaboration between five european artist groups and their local communities.

The consortium consists of:
NextDoor Project (DK), The Symptoms / Tünet Együttes(HU), Northern Sustainable Futures (SE),  Zita Dance company / Zita Omaga Sygchronou Chorou (GR) and Asociación Companiá Danza Vinculados (E).

The sibling birds are created by puppetmaker Anette Asp Christensen.
Europe is in a time of great transition.
Still in the aftermath of a pandemic crisis, with war raging again on European ground, and we are still just beginning to face the magnitude and gravity of climate change.

Grief is a natural and necessary part of any transition yet our lifestyles in Europe leave little room for it. But facing the pain of crisis and damage done as individuals is overwhelming and unbearable. We must become better at facing grief and transitions as communities. Both in the individual and the collective matters.
Through artistic activities the project investigates grief as a present condition and emotion on the rise in a challenged Europe. Through simultaneous and interconnected artistic activities in five european cities, the project engages its audiences and participants to experience community on both a local and European level, offering artistic spaces to share our emotional response to the crisis and to sense belonging as we embark the transition.                                     
The artistic process is based on a decentralized format, where the five partners facilitate and carry out parallel artistic activities simultaneously in each their local communities, mutually live-streaming moments between birds and citizens.
With poetic realism the birds are embodied and animated by the artists as they interact with the local community through spontaneous appearances in public space, bird-hosted grieving rooms and a concluding performance at a local venue or site.

The birds invite the local citizens into an artistic format where they intuitively can express themselves in visual and poetic images, - dancing, talking and engaging with its metaphoric presence.                              
The project explores a sustainable artistic strategy for international collaboration, with zero travel activities and a minimal co2 print, founding its choreographic practice in the composition of trans-national movements.
The consortium will share the experience and knowledge of this practice in a publication and following seminar hosted in collaboration with CKI.

The project is supported by: